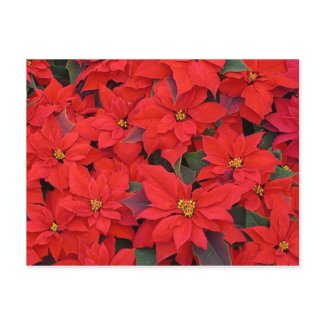 Poinsettias are a flowering plant indigenous to southern Mexico and Central America, but they've become a common symbol of Christmas in America and around the world. How did this bright red plant become associated with the holidays?
According to Wikipedia, the plant's association with Christmas began in Mexico in the 16th century, where legend tells of a young girl who was too poor to provide a gift for the celebration of Jesus' birthday. The tale goes that the child was inspired by an angel to gather weeds from the roadside and place them in front of the church altar. Crimson "blossoms" sprouted from the weeds and became beautiful poinsettias.
Poinsettias, known as the Christmas Eve Flower (Flor de Buena Noche) in Mexico, slowly became associated with the celebration of Christ's birth. The plant's star-shaped leaf pattern is said to symbolize the Star of Bethlehem, and the red color represents the blood sacrifice through the crucifixion of Jesus. Franciscan friars in Mexico started including the plants in their Christmas celebrations in the 17th century, and the plants came to the United States in 1825.
They were introduced here by Joel Roberts Poinsett, an amateur botanist and the first United States Minister to Mexico, and that's how the plants, whose scientific name is Euphorbia pulcherrima, came to be known as poinsettias.
Their rise in popularity in the United States and around the world was promoted by the Ecke family of California, which started selling the plants in the early 1900s and developed a way of grafting poinsettias to make a fuller, more compact plant. This secret allowed them to have a virtual monopoly on the poinsettia market until the 1990s. They also promoted the plants by sending free poinsettias to TV stations to display on air and by appearing on programs like The Tonight Show and Bob Hope's Christmas specials.
Today the association between poinsettias and Christmas is well established and will undoubtedly be with us for a long time to come.