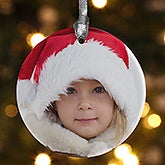 by Debora Dyess
When I was a kid (more years ago than I care to recount) my daddy always made sure we each had a personalized Christmas ornament every year. He used a fine liner paintbrush and model car paint to meticulously write our name and the year on a Christmas ball, along with some memorable thing that happened that year. 'Me, too!' my ball reads for the year I was two. My sixteenth year ornament reads 'Off to England!' They are treasured keepsakes.
Options for personalizing Christmas ornaments have come a long way, baby. While the hand-painted Christmas messages are still a wonderful way to individualize holiday heirlooms, there are so many more ways available today to create your own personalized photo ornament. Here are simple instructions to help you create a homemade photo ornament using Microsoft Word and some simple materials.
Materials:
– Clear glass Christmas ball ornament
– Overhead transparency sheet (office supply store)
– Digital camera
– Computer and printer
Directions:
Open a new document in Microsoft Word. Open the drawing toolbar (view – toolbars – drawing), select an oval and 'draw' it onto your document.
Right click inside the oval; select 'format autoshape'. Select 'color and lines'; choose 'no fill' as the color. Click on 'size', and type in both height and width to match the size printed on ornament box. (NOTE: Because the ornament is a circle, height and width will be the same. If only one number is listed on the box, it is both.)
After closing the 'format autoshape' option, copy and paste the circle to cover the document, creating as many as you need. Insert the picture(s) by going to 'insert'. Select 'picture', 'from file', and browse until you find your pictures. Insert pictures in circle document, resizing as needed to fit the balls. You will lose whatever doesn't fit into the circle, so resize carefully.
Print onto transparency paper (a copy shop can do this for you). Cut out circles. Roll individual photo-circle around a skewer and insert into opened Christmas ball. Make sure the bottom of the picture is at the bottom of the ball. Once the photo is inside, it will open and fill the Christmas ornament. You may add glitter or confetti for a fun look, or decorate the outside of the ball with paint pens. Make sure not to obstruct the photo.
Using formal portraits or candid shots will change the character of the personalized photo ornament, as will how you choose to decorate each ball. You may even wish to combine the 'old school' method of personalization with the new, adding a name, date and words or event to remember to the outside of the ornament with a careful hand.
These personalized photo ornaments are sure to saved and cherished for many years.